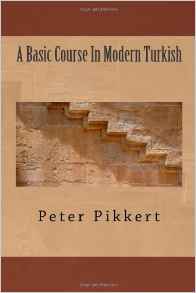 P. Pikkert
Welcome to Turkish, a world which combines near-mathematical precision with near-musical harmony. This book provides a quick but comprehensive overview of the Turkish language. It keeps explanations as simple as possible and translates all examples into English.  
84 pages.
Hard Copy: US$12.95  
Not available on Kindle due to loss of complex pagemaking.
Paperback: 84 pages
Publisher: CreateSpace Independent Publishing Platform (December 22, 2010)
Language: English
ISBN-10: 1453866590
ISBN-13: 978-1453866597
Product Dimensions: 6 x 0.2 x 9 inches
Shipping Weight: 6.4 ounces
More books...